Price of Gold Today
by Rena Klingenberg.
See the price of gold today on the charts below. You can save a lot of money on jewelry components by checking the current market price of gold before buying wire, findings, etc.
Jewelry suppliers base their gold prices on the current day's market rate.
So I always update my shopping list for metals whenever I notice I'm running low on something. Then when I see that metal prices are dropping, I'm ready to put in my order that same day to get my supplies at the lower price.
Price of Gold Today – Charts
The charts are updated every minute during the hours when the market is open. To get the latest prices, click your web browser's "refresh" button.

Gold Price Per Ounce
24-Hour, $US Dollar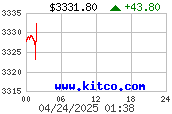 Gold Price Per Kilo
24-Hour, $US Dollar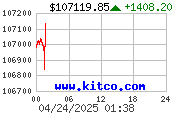 Also see the Silver Price Today.